Welcome, and thank you for your interest in Local 66 of the American Federation of Musicians of the United States and Canada. The AFM is the largest organization in the world dedicated to representing the interests of professional musicians. Local 66 represents many of the finest professional musicians in the greater Rochester metropolitan area including most of a nine-county region extending south from Lake Ontario.
AFM members, who number over 90,000, perform all styles of music—alternative rock, classical, pop, gospel, jazz, country, folk, rock, big band, reggae, contemporary Christian, etc.. With such active members as Bruce Springsteen, Roberta Flack, Santana, Yo-Yo Ma, Sheila E, Suzanne Vega, The Goo Goo Dolls, Willie Nelson, and Branford Marsalis, there is a strong representation of major recording individuals and groups.
The AFM has been promoting and protecting professional musicians for over 115 years. Local 66 has been serving  the Rochester area musicians since 1897 and continues to be an effective advocate for musicians' rights in the workplace (be that a nightclub, a symphony stage, in a recording studio, or on tour). The AFM and Local 66 protect the recorded works musicians produce from being exploited, and protect our members live performances by providing several types of benefit programs that help them to build successful careers.
Members of Local 66 of the AFM are secure in knowing that their organization is actively lobbying to promote legislation and public awareness that protects musicians' interests, negotiating collective bargaining agreements with the recording industry, motion picture industry, jingle industry, TV networks, National Public TV and Radio, and providing excellent wages and working conditions for its members.
—————————————————————————————————————————–
RMA member Nate Shafer was performing last year aboard the Queen Mary 2.  Also performing on the cruise were James Taylor and his band, kicking off a World Tour.  James Taylor's drummer was Rochester native and drummer extraordinaire Steve Gadd.  Nate reports that he talked to Steve for about 10 minutes in a stairwell behind the main theater where this picture was taken.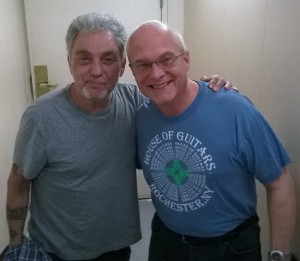 Nate admits to being a nervous wreck.  "Steve was very kind, gracious and focused.  He asked more questions about me than I did about him."
Steve studied with RMA member John Beck.  He is also featured on the cover of the January 2015 issue of the AFM's International Musician.